University of East London
Professional Psychology | School of Psychology
Course length:
3 years (full-time)
Overview
Qualifications:
Applicants must hold an honours degree of 2:1 class or above.
Applicants with a conversion diploma/MSc must have a 2:1 class or better in their first degree, and equivalent results or better in the conversion programme.
Please see our Entry Requirements page for more information.
Experience:
Applicants must have at least 12 months WTE paid employment in a relevant post at the time of the application.
Please see our Entry Requirements page for more information.
Residence:
Applications are only accepted from UK residents, who are entitled to work full-time in the UK for the duration of the programme (3 years) and are eligible for Home Fees status with the university.
Please see our Entry Requirements page for more information.
Application:
Applicants will be invited to sit pre-selection tests (online, remotely) on Saturday 10 February 2024.
Please see our Selection Procedure page for more information.
Document requirements:
Please provide a document confirming your GBC status, plus:
Undergraduate degree TRANSCRIPT
Conversion course TRANSCRIPT (if completed)
Any other Masters degree TRANSCRIPT (if completed)
Any other Postgraduate degree TRANSCRIPT (if completed)
Any other Postgraduate degree CERTIFICATE (if completed)
Open Day
Join us for an Online Applications Event
Thursday 12th October 2023 - 6:00pm to 7:30pm
Professional accreditation
Our training is accredited by the British Psychological Society (BPS) and meets the requirements of the UK Health & Care Professions Council (HCPC). Trainees who successfully complete the programme are eligible to apply for registration with the HCPC as a practitioner psychologist (clinical), and for chartered membership of the BPS.
The programme is currently developing a pathway within the curriculum that will enable trainees to be eligible for foundation level of accreditation with the Association of Family Therapists (AFT).
Approach and theories
The programme's key orienting principles are:
(a) that psychological problems are best understood in a social and cultural context, and
(b) that trainees and those who teach and supervise them have a responsibility to be aware of and to be able to reflect upon, the social, professional, and personal influences on their professional activities.
The programme is characterised by this distinctive approach to the subject. As well as providing teaching on the major approaches to clinical psychology theory and practice, the philosophical bases of scientific activity are examined, especially the problems of applying philosophies and methods from the natural sciences to human behaviour and society.
The programme strongly encourages the formulation of psychological problems in their social context. Approaches to teaching and practice are informed by systemic principles, relationships, and connections to wider networks and contexts. There is a particular emphasis on conceptual issues such as the reliability and validity of diagnostic categories, and an awareness of debates about the evidence bases for psychological interventions.
Placement locations
Placements are allocated across the north Thames area of London (see map below).  Applications are only accepted from candidates who are able and willing to travel to the UEL base/HQ, and across the training region (area covered by Health Education London regions (see map below), in order to arrive for work in time to undertake a full day of academic study, research and/or clinical duties.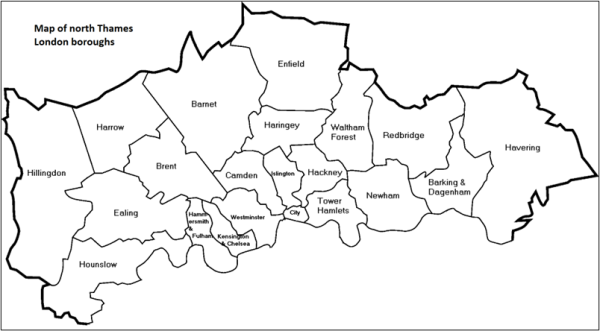 Last updated:
18th September 2023