Number of places: Overview
National numbers for NHS places
23% of applicants succeeded in gaining a place on NHS clinical psychology training in 2023.
The number of places may change for the 2024 intake.
Please see the Courses section for the information provided by individual course centres when applications opened. Course centres may also provide details about their number of places as part of their interview/offer processes.
Please see our Places by Course Centre page for numbers of places at each course centre.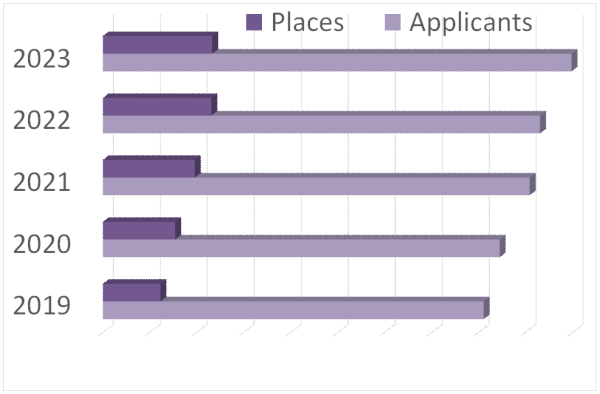 NHS Places data - 2023 entry

| 2023 | Data |
| --- | --- |
| Places | 1,166 |
| Applicants | 4,990 |
| Success Rate | 23% |
NHS Places data - 2022 entry

| 2022 | Data |
| --- | --- |
| Places | 1,155 |
| Applicants | 4,655 |
| Success Rate | 25% |
NHS Places data - 2021 entry

| 2021 | Data |
| --- | --- |
| Places | 979 |
| Applicants | 4,544 |
| Success Rate | 22% |
NHS Places data - 2020 entry

| 2020 | Data |
| --- | --- |
| Places | 770 |
| Applicants | 4,225 |
| Success Rate | 18% |
NHS Places data - 2019 entry

| 2019 | Data |
| --- | --- |
| Places | 614 |
| Applicants | 4,054 |
| Success Rate | 15% |
Last updated:
5th September 2023