North Thames - UCL
University College London
Department of Clinical, Educational and Health Psychology (CEHP) | Division of Psychology and Language Sciences (PaLS) | Faculty of Brain Sciences
Course length:
3 years (full-time)
Overview
Who can apply:
We do not accept applicants who have not yet graduated: you must have GBC confirmed at the point of applying.
We cannot accept applicants who, at the start of our programme (last week of September), are formally registered (or re-sitting exams) for another programme of study.
We cannot accept applicants who violate the HEE 2-year funding rule policy.
Qualifications:
You must have a high 2:1 (67% or above) or equivalent in the degree that gives you GBC, confirmed by your academic transcript. If your degree was outside the UK, please check the UCL website for equivalent grade details.
Please see our Entry Requirements page for information about mitigating circumstances and/or postgraduate study in relation to this requirement.
Experience:
We look for your clinical capacity and potential, demonstrated in employment.
We do not specify a minimum period but successful candidates typically have 2 years FTE experience at the point of applying.
Please see our Entry Requirements page for further information.
Residence:
For NHS-funded places we require Home Fees status.
For self-funded places we require Overseas Fees status.
Please see our Entry Requirements page for further information.
Application:
We do not have any additional tests as part of short-listing.
Disability:
We do not participate in the Disability Confident scheme.
Document requirements:
Please provide a document confirming your GBC status, plus:
Undergraduate degree TRANSCRIPT
Conversion course TRANSCRIPT (if completed)
Any other Masters degree TRANSCRIPT (if completed)
Any other Postgraduate degree TRANSCRIPT (if completed)
If the transcript for your GBC course (undergrad or conversion) does not give a final overall percentage grade, please provide a letter from the course giving this grade
Professional accreditation
This course is accredited by the:
Health and Care Professions Council (HCPC)
British Psychological Society (BPS)
Trainees completing the course will receive:
Recognition of having completed a Foundation level course in systemic practice accredited by the Association for Family Therapy and Systemic Practice (AFT) – this applies to all trainees who successfully complete the DClinPsy course and course work required as part of the AFT Foundation course. A small subset of trainees will also be able to complete an intermediate systemic pathway, which is currently in the pilot phase and for which the course will seek AFT accreditation in due course. 
Eligibility to apply for accreditation with the British Association of Behavioural and Cognitive Psychotherapy (BABCP) via the individual accreditation route. 

A subset of trainees are able to complete a BABCP pathway on the course doing additional pieces of work and will be eligible for accreditation with the BABCP when they qualify from the course.
The course also offers two further pathways for a small number of trainees: the neuropsychology pathway and the clinical academic pathway. These two pathways do no lead to any formal accreditation. Please see below for details on the two pathways:
Neuropsychology Pathway:
The pathway does not lead to an independent accreditation but its completion will be noted on the graduation letter from UCL. Trainees who complete the pathway will be able to:
count up to one year of supervised practice done on the DClinPsy towards a two-year post-doctoral qualification in clinical neuropsychology;
skip some of the learning component on the Bristol post-doctoral course in clinical neuropsychology;
leave with additional learning and experience in neuropsychology.
The pathway requires trainees to do two pieces of neuropsychology-related coursework and select a neuropsychology placement. 
Clinical Academic Pathway:
The clinical academic pathway aims to give research-focused trainees additional opportunities throughout their training to learn more about clinical academic careers, with an aim of applying for competitive research funding post-training. There is no formal accreditation for this pathway, but the goal is that by the end of training, pathway trainees will have solidified their further research plans and will be preparing to submit an application for further clinical academic work (e.g., PhD, fellowship, clinician scientist role).
The pathway will begin with semi-regular meetings and workshops in Year 1, and evolve into more independent, hands-on research experience (beyond the major research project) as training progresses. Trainees can expect roughly monthly meetings of an hour each, as well as group and self-led activities (i.e., research presentations and interactive feedback, working with or shadowing other clinical academics at UCL), and most "assignment-based" deadlines will be in accordance with standard course deadlines (e.g., research project proposal submission).
 
Approach and theories
We have an explicitly pluralistic ethos exposing trainees to a variety of approaches, including the following:
Cognitive behavioural therapy including third wave models ACT and CFT
Systemic
Psychodynamic
Placement locations
Trainees are on placement in the North Thames region (see the below map) in a range of NHS Trusts and third sector organisations. 
Commute times can be anywhere up to 1 hour 30 minutes one way, though we do try to ensure trainees have a mix of commute length across the course.
Trainees are expected to be located in and travel to placements within the entire North Thames region
Placement allocators do take into account any needs that have been agreed with course tutors, including reasonable adjustments that have been agreed with the trainee's line manager e.g., relating to childcare / caring responsibilities, mobility issues etc. Placements are primarily in person although some may involve hybrid working.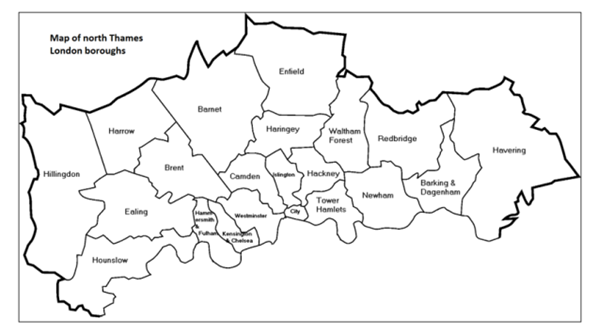 Last updated:
15th August 2023